Delticom efficiency index
The efficiency class label evaluated based on customer preferences.
Delticom centralized survey results from more than 40.000 customers from 15 European countries and created this index.
Client reviews rating
More than 5 billion kilometers. Testcauciucuri.com offers over 430 000 tests firsthand - from consumers for consumers.

Viking
TransTech II
Viking - Sporty. Strong. Safe! Quality tyres, developed and produced in Europe. A brand of Continental.
Type of Tyre
Summer tyres
Speed Index
Approved up to 170 km/h
EU Tyre Label
Frequently bought together:
1 x Viking TransTech II 225/65 R16C 112/110R 8PR =

€ 142.10

1 x Castrol 5 Litre Canister =

€ 39.47
The van tyre
Tyre The new CityTech II and TransTech II treads combine perfectly the state-of-the-art technology with a good price-performance ratio. That's what they're like, our Vikings: always on the winning track!
New VAN tyre for vans and light trucks
Great road safety, even with heavy loads
Improved ride comfort due to low noise level
Viking delivers affordable quality and performance
Improved handling on dry roads
Fits perfectly for example to Renault Trafic, VW T5 and Mercedes Sprinter/Viano
Safety on dry roads
Feature: Closed shoulders with compact double lugs and sturdy lug structure in the tread centre, coupled with longitudinal and lateral sipes
Effect:Optimised tread pattern stiffness and increased stability in the circumferential lugs, plus ideally positioned gripping edges
Benefit: Improved handling characteristics on dry roads and shorter braking distance

Safety on wet roads
Feature:wide circumferential grooves in the tread centre and slightly curved lateral grooves in the shoulder
Effect: Efficient water displacement in longitudinal and lateral direction
Benefit. High level of safety and aquaplaning protection

Mileage performance
Feature: Flat tyre contour and wear-optimised compound
Effect: Evenly reduced wear thanks to a wider footprint
Benefit: Highly economical, thanks to long service life

Noise and comfort
Feature: Uniformly wide, offset shoulder grooves and closed 'noise breaker' shoulder
Effect: Even reduction in noise level through elimination of frequency peaks
Benefit: Enhanced driving comfort, thanks to low noise level.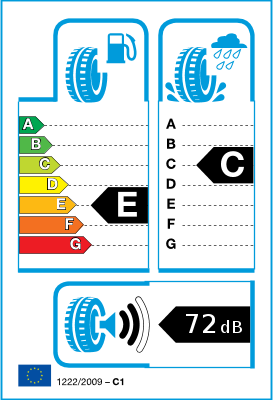 EU Tyre Label and Efficiency Classes
The European Union, under CE 1222/2009, has mandated that all tyres manufactured after the date of July 1 2012 for cars and commercial vehicles include standard EU Tyre Labels classifying them by three performance characteristics:fuel efficiency classified from A to G,wet grip classified from A to G, and noise emission in decibels.
Categories of tyres unaffected by this regulation include: retreaded tyres, professional off-road tyres, racing/sports car tyres, as well as certain types of tyres designed to improve traction such as studded tyres, T-type temporary spare tyres, tyres for cars built before 1990, tyres with a maximum allowed speed of 80km/h, tyres for rims with a diameter less or equal to 254 mm or greater or equal to 635 mm.
This label is intended on one hand to promote economic and ecological efficiency in traffic, as well as increase road safety, and on the other hand to help consumers select appropriate tyres by ensuring a certain degree of product transparency.
Nevertheless, the label has been criticized for only showing a very limited number of characteristics. Professionals argue that tyres have many more features that are important and relevant to road safety, including but not limited to aquaplaning properties, driving stability, service life, product properties on wet and dry roads other than wet grip, properties on snow.
Tyre manufacturers suggest that the test results from various institutions and industry magazines should remain a very important source of information for the end consumer, because they focus on and rate a wide variety of tyre properties and features.
What tyre size do you require?
The exact size of a tyre can be found on its sidewall.
The following chart shows you how to read a tyre size.
1. The width in mm
2. The height as the ratio between the width and the height in %
3. Construction type: "R"= radial (often seen), "D" or "-"= diagonal (rarely seen)
4. The required rim diameter (in inches) for this tyre
5. Load index
6. Speed index