Tyres
Winter tyres
M+S marking
with snow flake symbol
Tyre label
Frequently bought together:
1 x Maxxis MA-SW 225/70 R16 107H XL =

€ 102.20

1 x ProPlus Snow Chains 4x4 ProPlus 16mm. TÜV-GS Tested (TÜV Austria)ÖNORM =

€ 65.04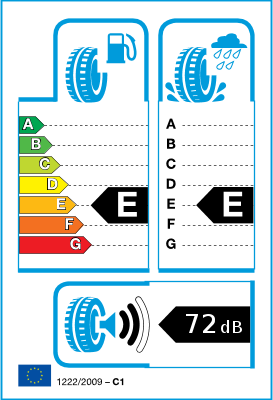 Tyre label / Efficiency class
We sell new cars tyres which are not older than 2 years.
During this period, using the same item number, both labeled tyres (produced after 01.07.2012) and unlabeled tyres (produced before 01.07.2012) can be purchased from the manufacturer.
Tyres with the same item number, whether or not they are labeled, can be fitted on the same axle as they have the same efficiency class. Proof is available from the involved manufacturers.
The tyre efficiency class values are sent to us by the manufacturer along with the item number and the IP code. We forward the item number and these values to our customers regardless the manufacture date of the tyres excepting articles that are older than 2 years.
Please note that this tyre may not be labelled as it was manufactured before 01.07.2012.
In this case, the following efficiency classes are valid: Roll resistance: E, Wet grip: E, Noise emissions: 72 dB.
If the tyre was produced after 01.07.2012, the label from the chart on the left is valid.
The perfect winter tires, particularly adapted to the needs of strong and heavy SUV's and jeeps
The modern direction of travel-bound lamella profile and a singular Silicamischung ensure an optimal traction on snow and ice