Tyres
Summer tyres
M+S marking
Tyre label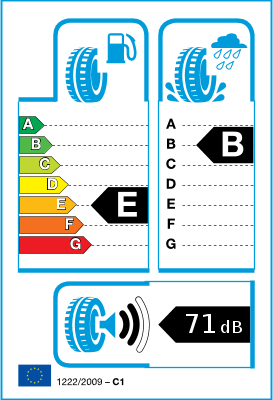 Tyre label / Efficiency class
We sell new cars tyres which are not older than 2 years.
During this period, using the same item number, both labeled tyres (produced after 01.07.2012) and unlabeled tyres (produced before 01.07.2012) can be purchased from the manufacturer.
Tyres with the same item number, whether or not they are labeled, can be fitted on the same axle as they have the same efficiency class. Proof is available from the involved manufacturers.
The tyre efficiency class values are sent to us by the manufacturer along with the item number and the IP code. We forward the item number and these values to our customers regardless the manufacture date of the tyres excepting articles that are older than 2 years.
Please note that this tyre may not be labelled as it was manufactured before 01.07.2012.
In this case, the following efficiency classes are valid: Roll resistance: E, Wet grip: B, Noise emissions: 71 dB.
If the tyre was produced after 01.07.2012, the label from the chart on the left is valid.
A new SUV All-season Touring tire that delivers excellent stability and comfort with the state-of-the-art technology.
Four straight-line groove design for the maximum water dispersion
The four vertical tread grooves are designed to efficiently expel water.
Slanted Long Groove Design on the center of the tire
To resist hydroplaning by dispersing water through the circumferential grooves for better grip while increasing contact area on the road surface.
Sipe Patterns with assorted variation
A total of 148 varied combinations of sipes which are optimally placed on the tread with the aim for achieving smaller blocks – with the result in minimum noise when the tire is contacting on road.
Lateral Patterns on Center Rib
Provides straight-line performance and stability at high speed.
Stiff Interconnected Blocks
Stiff interconnected among bigger shoulder blocks promotes quietness, comfort and driving stability by locking shoulder blocks together for balanced rigidity while also prevents the tire from uneven wear.
The Opposite Slanted Angle Design
The opposite slanted angle design on the tread adds longevity and prevents uneven wear.