Tyres
Winter tyres
M+S marking
with snow flake symbol
Tyre label
Frequently bought together:
1 x Falken Eurowinter HS01 225/70 R16 103H , SUV =

€ 95.01

1 x ProPlus Snow Chains 4x4 ProPlus 16mm. TÜV-GS Tested (TÜV Austria)ÖNORM =

€ 65.04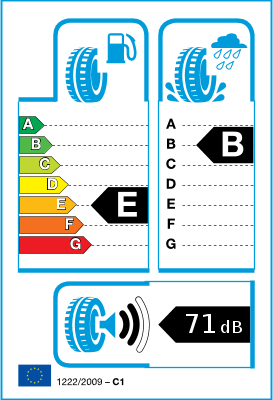 Tyre label / Efficiency class
We sell new cars tyres which are not older than 2 years.
During this period, using the same item number, both labeled tyres (produced after 01.07.2012) and unlabeled tyres (produced before 01.07.2012) can be purchased from the manufacturer.
Tyres with the same item number, whether or not they are labeled, can be fitted on the same axle as they have the same efficiency class. Proof is available from the involved manufacturers.
The tyre efficiency class values are sent to us by the manufacturer along with the item number and the IP code. We forward the item number and these values to our customers regardless the manufacture date of the tyres excepting articles that are older than 2 years.
Please note that this tyre may not be labelled as it was manufactured before 01.07.2012.
In this case, the following efficiency classes are valid: Roll resistance: E, Wet grip: B, Noise emissions: 71 dB.
If the tyre was produced after 01.07.2012, the label from the chart on the left is valid.
Falken Eurowinter HS01
High-end winter tyre generation with state-of-the-art technology. 'Miura- Ori' 3D sipe technology, 4D nano design compound and micro-optimised stiffening of the tread blocks combine satisfying winter characteristics with low noise and outstanding performance in wet conditions.
FEATURES & BENEFITS
Designed for directional stability, with patented "Miura-Ori" 3D sipe technology
4D Nano Designed compound
Micro-optimised stiffer tread blocks
Outstanding traction and braking performance in snow and ice
Excellent directional stability on snowy roads
MADE FOR WINTER ROAD CONDITIONS
In order to satisfy the high stresses and demands of the cold season, winter tyres are composed of a variety of high quality materials and design features.
Innovative tread design
Flow-optimised tread grooves
Boosts the 'water pump effect'
Effective and safe dispersion of water
First class hydroplaning reserves
Outstanding traction on snow
New Miura-Ori 3D sipe technology
Flow-optimised tread grooves
Flexible sipe structure for short braking distances on snow and ice
Highest possible stiffening of the sipe edges for optimum stability in curves
Signifi cantly improved traction on snow and ice as well a more uniform wear pattern
4D-NANO DESIGN - FALKEN'S INNOVATIVE RESEARCH AND SIMULATION PROGRAM
Pioneering 4D-Nano Design technology enables our engineers to simulate the complex interactions of tyre compound components at the nano-level.
High-end materials research technology
Shorter development times
Simulation of energy loss / heat generation
Development of groundbreaking tyre compounds with signifi cantly reduced rolling resistance
In-depth analysis of changes in tyre compound composition throughout tyre life
Out-of-phase tread bars
Reduced road noise
Improved handling
First class comfort