availability
at the moment, this product is not in stock
Tyres
Summer tyres
M+S marking
Tyre label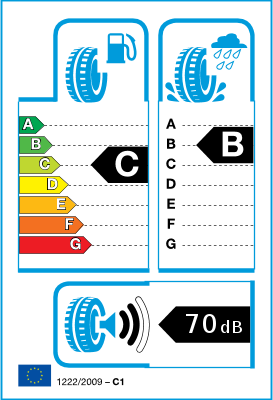 Tyre label / Efficiency class
We sell new cars tyres which are not older than 2 years.
During this period, using the same item number, both labeled tyres (produced after 01.07.2012) and unlabeled tyres (produced before 01.07.2012) can be purchased from the manufacturer.
Tyres with the same item number, whether or not they are labeled, can be fitted on the same axle as they have the same efficiency class. Proof is available from the involved manufacturers.
The tyre efficiency class values are sent to us by the manufacturer along with the item number and the IP code. We forward the item number and these values to our customers regardless the manufacture date of the tyres excepting articles that are older than 2 years.
Please note that this tyre may not be labelled as it was manufactured before 01.07.2012.
In this case, the following efficiency classes are valid: Roll resistance: E, Wet grip: C, Noise emissions: 70 dB.
If the tyre was produced after 01.07.2012, the label from the chart on the left is valid.
Duraturn Mozzo 4S Tire
An all-weather, get around performer
Available in a variety of sizes for compact and mid-size passenger sedans, coupes or minivans, Duraturn's Mozzo 4S are for drivers that want all-around performance in both wet and dry conditions. The Mozzo 4S will deliver quality that people desire in a tire - long life, improved fuel economy, a smooth quiet ride, and solid handling - and value that makes it a great investment.
Features & Benefits
All Season tread design
3 Circumferential grooves for rapid water evacuation and extra grip on wet pavement
Assymetric tread design for improved handling and cornering
New silica tread compound improves grip and reduces rolling resistance
Sample Vehicles
Fiat 500, Ford Fiesta, Honda Fit, Nissan Versa, Toyota Prius.